The phone is ringing when I study at the library. Some people are calling at concerts. Some people cheat on their mobile phones at the test site. Some people are worried about information leaks. These phenomena are common. There are many people who are in trouble. I want to take measures. Is there a device that interferes with the phone signal? How about the mass of the product? What is the blocking range? What kind of product do you choose? Many people have various questions. We will introduce countermeasures for these problems. We will explain our latest munitions camouflage jammer.
Recently, we have designed a munitions camouflage jammer according to your needs. Currently, it is on sale on this site. The evaluation is also the best product. This product is a new product developed based on the actual situation of mobile communication by adopting advanced technology from overseas. This gps signal jammer has its own characteristics. In terms of appearance, it adopts a munitions camouflage design. The color of the product is beautiful. The previous product generally has a black appearance. The color of the product is sober. In addition, there is an LCD display. Previous products do not have an LCD display. This is also a feature of this product.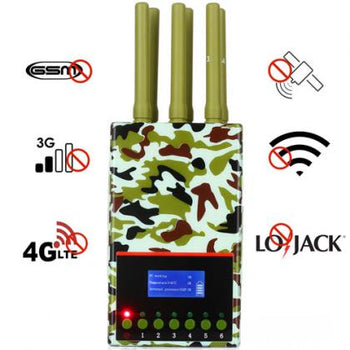 This product is equipped with 6 antennas. It can block signals such as CDMA, GSM, DCS, PCS, 3G, WIFI, GPS and LOJACK. It can handle various signals. This jamming device is a portable jammer, so it is very convenient to carry. Uses a cooling fan. Guarantees stable work. Besides, the blocking range is wide. It is active in many places such as concerts, examination halls and libraries. It is the product with the best cost performance. Popular with customers.
This product is also a model recommended by the store manager. Guarantees high quality and high performance mobile phone jammers. We are dealing with annoying signals. It provides a quiet environment. I think it helps to protect your privacy. If you choose a jammer, we recommend this product. Don't miss it.