8 Band 130W 4G 3G WIFI Drone Signal Jammer
Regular price
$5,500.88 USD
Regular price
$7,230.99 USD
Sale price
$5,500.88 USD
Unit price
per
Sale
Sold out
There is currently a problem with our credit card payment channel, which is being dealt with urgently. If you want to pay with Paypal, please contact us.Our email is: topsignaljammer-service@outlook.com

The one is professional mobile phone jammer for 4G cellular phones, Cellphone 3G 4GLTE/WIMAX Wi-Fi UHF VHF Signal Jammer which are currently presented on the market. Also is Middle RF power Drone Jammer model with 8 antennas 7 cooling fan which bring us a strong jamming ability. 24/7 continuously working. And it can defend 100% drones UAVs, like Phantom 4, Phantom 3 Professional, advanced, standard series, inspire series
Advantage:
1.Output power total 130w, You can choose high gain 5-7 dbi OMNI or Panel directional antennas, shielding 30-300m,Still depends on the strength signal in given area.
2.Each unit can jam up to 6 frequency bands simultaneously, each frequency band is separate and with adjustable power from max to off (0), LED indicator lights display power supply
3.100% safe VSWR over protection (isolator) for each modular
4.Good cooling system with Heat sink and 3 big on top fans + 4 x small inside, low noise, not-stop to work
Application:
It can be applied at meeting rooms, conference rooms, museums, galleries, theatres, concert halls, churches, temples, restaurants, classrooms, training centers, factories, banks, trains, bus and more Places that require silence, confidentiality and information security For some locations of special purpose such as hospitals, gas stations and more, please do field test first to make sure no interference happened to the normal operation of their equipment and instrument
Precautions:
1.The jammers are customized according to the frequency bands of different countries, please confirm that the purchase country and the actual use country are consistent. Otherwise it can not be used.Please read the jammer function before purchasing.
2.If the low power jammers(such as handheld jammers) to blocker signal device(such asWIFI router, Bluetooth audio equipment, etc.), the effect will be poor or even can not jammer.
3.It is forbidden to use while charging.
4.Do not use handheld jammers as desktop jammers.
5.Do not use jammers before connecting the antenna.
Jamming frequencies:
CDMA or GSM:851-894 or 925-960MHz
DCS/PCS:1805-1990MHz
3G:2110-2170MHz
4GLTE:700-803 or 790-862MHz
4G WIMAX:2500-2690 or 2300-2400MHz
WIFI2.4G:2400-2500MHz
VHF:130-174MHz
UHF:400-470MHz
GPSL1:1570-1610MHz
GPSL2+L5:1170-1280MHz
GPSL2:1200-1280MHz
GPSL5:1170-1200MHz
RC868, 912 and 916:868-916MHz
LOJACK:167-175MHz
RC2.4G:RC2.4G
RC5.8G:5725-5850MHz
RC433 434 435:430-440 MHz
RC315 312:315MHz
GPSL1 and Glonass L1:1560-1620MHz
Total output power:Total 100-130W,10-30W each band
Jamming radius:20-120 meters (GPS signal for 300m)
Power supply:AC110-240V to DC27V
Working Time:Not-stop Working
Operating temperature:-10℃ to +50℃
Operating humidity:5% to 80%
Device size:550x 238 x 60 mm
Device weight:appr.10kg
Package Contents:Jammer Host x 1, Adapter x 1, antenna x8

Share
Same/next Day Fast Shipping, Delivered within 7-10 Days

Provide Tracking Number

Free Shipping
View full details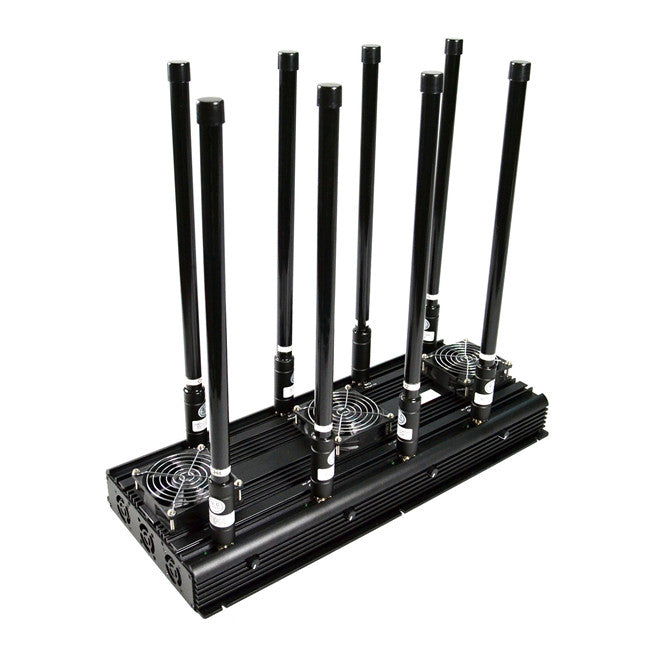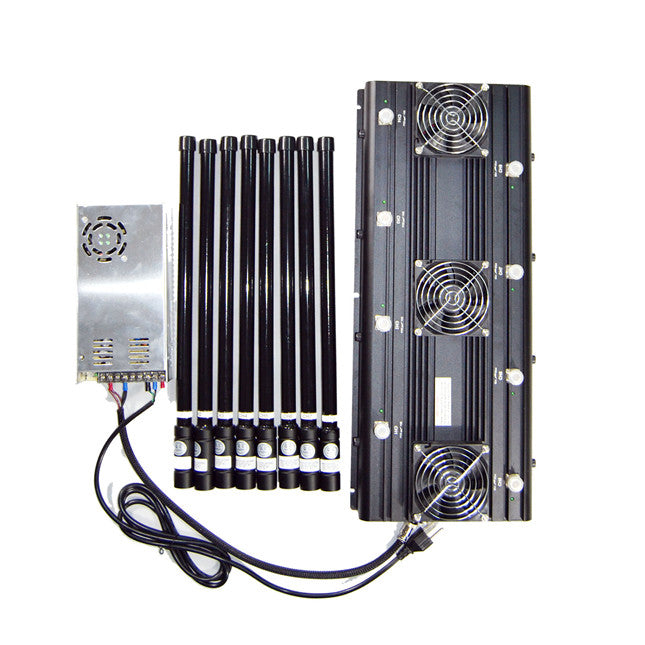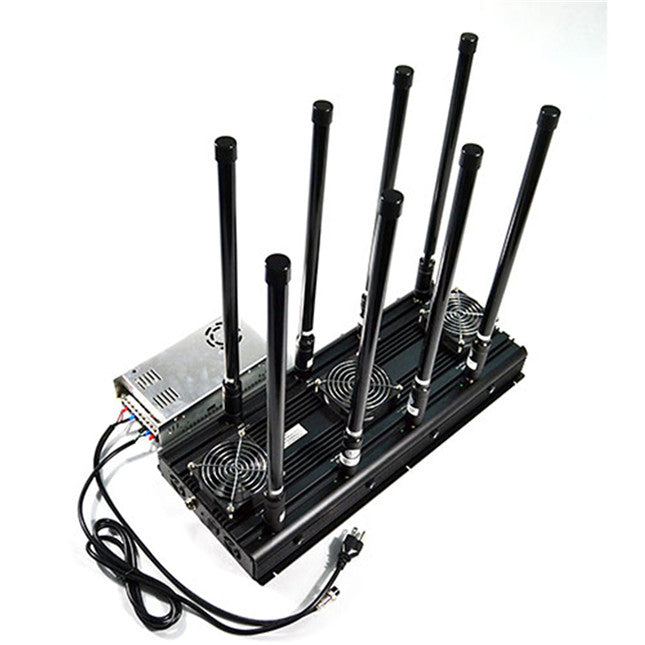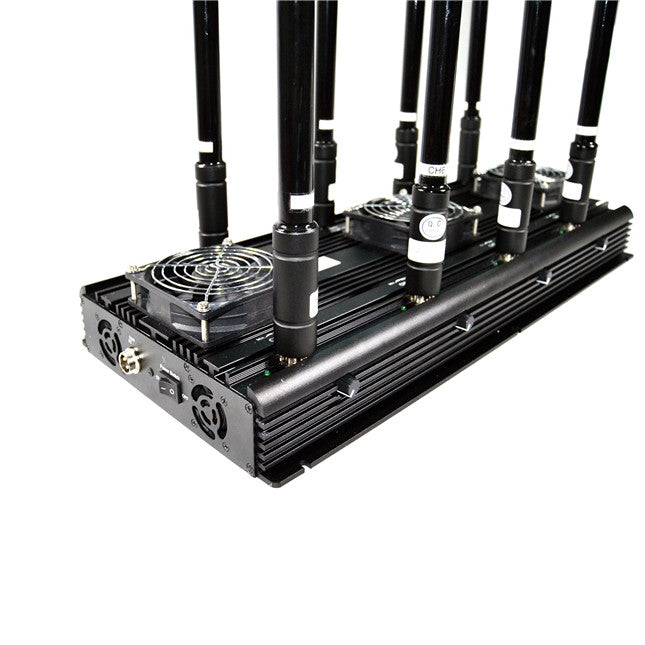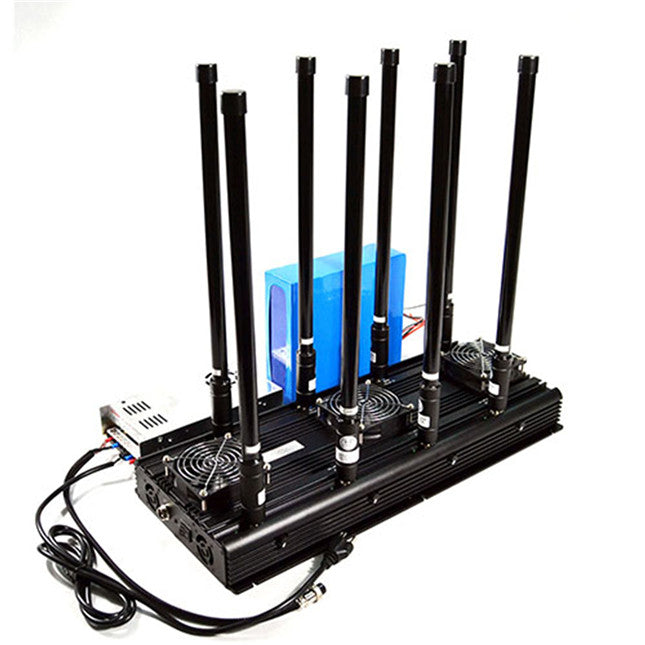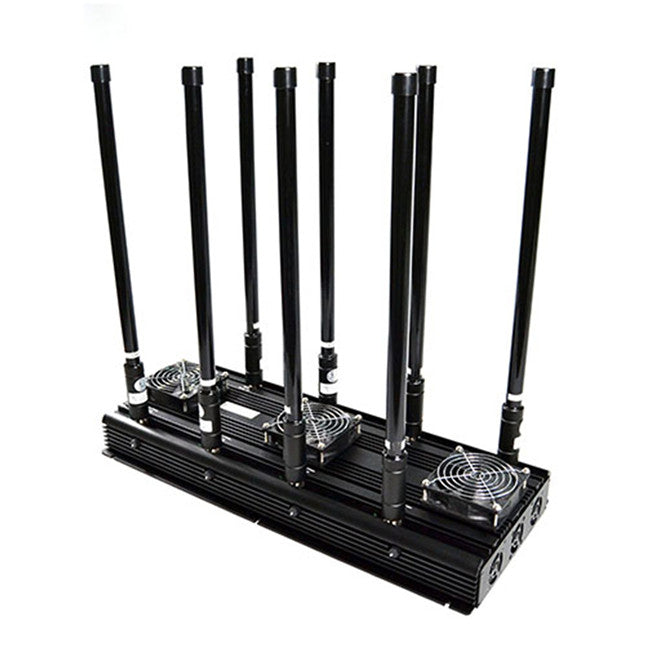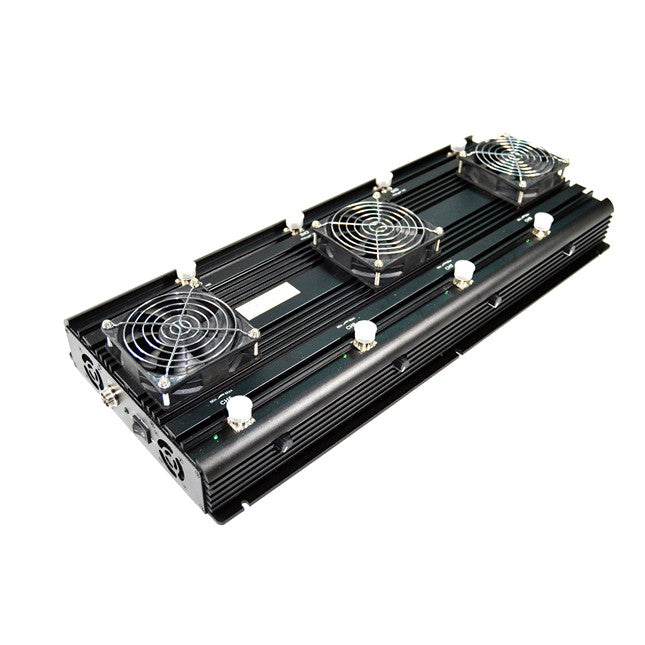 great design and nice product!
It can effectively block the neighbor's signal.
Very simple to use, practical, with instructions
Excellent cooling system! After 48 hours of continuous use without overheating, great!