The US operator T-Mobile, which completed the acquisition of Sprint, recently shut down the 5G network built by Sprint using the 2.5GHz spectrum.
From April this year, T-Mobile started to integrate Sprint's network with its own network. At that time, T-Mobile shut down Sprint's existing 5G network in New York and relaunched it as part of the TMobile 5G network. At the time, T-Mobile also launched a new 2.5GHz 5G network in Philadelphia, while Sprint had not yet launched a 5G network in Philadelphia.
T-Mobile recently announced that Sprint's networks in Chicago, Houston and Los Angeles have also been reactivated as T-Mobile's networks. Atlanta, Dallas-Fort Worth, Kansas City, Phoenix and Washington, DC have not yet been redeployed. These areas have previously had Sprint's 5G network.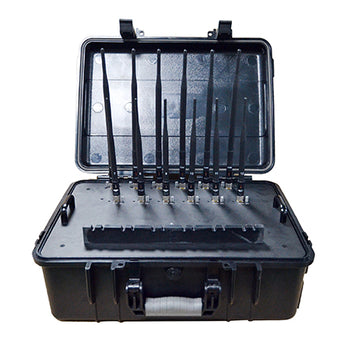 T-Mobile said it will provide Sprint customers with a service: exchange their 5G phones for another phone that can be used normally on the T-Mobile 5G network. According to data provided by research and analysis company BayStreet Research, in the 11 months from June 2019 to April 2020, Sprint sold more than 75,000 5G phones that are not compatible with the T-Mobile network.
The integration of Sprint's IF spectrum is a key part of TMobile's 5G strategy, which aims to combine low-band 600MHz spectrum with faster IF spectrum (Sprint's 2.5GHz network) and short-range millimeter wave networks to achieve coverage and speed balance.
Sprint has a 2.5GHz mid-frequency band, while T-Mobile has a 600MHz low-frequency band and a millimeter-wave high-frequency band. Therefore, the merger of the two telecom operators can form a better wireless network coverage and save infrastructure construction costs.
Cell phone jammer can shield 2/3/4/5G signals, GPS, WiFi, drones and other signals. They are mainly used in prisons, schools, churches, gas stations and other places to provide you with shielded communication services to protect your privacy Safety!