The speed of mobile communication is changing every day, and the signal transmission technology used is more and more developed: 3G and 4G networks have become very popular in our lives. People's lives are inseparable from mobile phones, computers and other electronic devices. You often hear the words 3G and 4G networks, but do you really know what 3G and 4G networks mean? Do you know the difference between them? top signal jammer.com has these questions for you.
In general, 3G and 4G belong to the network of both eras: 4G is an upgraded or upgraded version of 3G, most of the world is covered by 3G and 4G networks, and the era of 5G network is approaching. The 5G network trial operation has started and it is believed that 5G will spread all over the world in the near future.
Let's first look at 3G networks, which are third generation mobile communication technologies and we refer to cellular mobile communication technologies that support high-speed data transmission. 3G services can transmit both voice and data information at speeds of several hundred kbps or more. There are currently three standards for 3G: CDMA2000, WCDMA and TD-SCDMA. Most of the 3G in Europe is in WCDMA mode, as this model was designed in Europe and is currently the largest and most widespread 3G network in the world.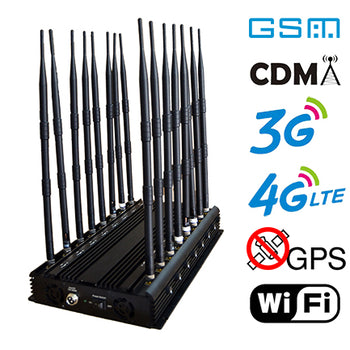 Let's take a look at 4G networks: The fourth generation mobile communication standard for mobile phones refers to the fourth generation mobile communication technology, which allows fast transmission of data, high quality, audio, video and pictures. 3G, 3G+ and 4G networks have faster internet speed and network stability. At the same time, the 4G network is also an evolutionary version of the 3G network, that is, the 4G network not only fully inherits the advantages of the 3G network, but also develops and evolves more features. At present, 4G has two types of FD-LTE and TD-LTE: most of 4G in Europe is FDD-LTE, and FDD-LTE is a smooth transition of WCDMA. 4G communication technology standards are globally unified.
Another difference is that in 4G networks, all voice calls are digital conversion technologies, which are transmitted as voice over IP. Mobile signal coverage.