The Latest Handheld 24-Wire Mobile Phone Interceptor Full Frequency Band
Regular price
$1,099.63 USD
Regular price
$1,799.63 USD
Sale price
$1,099.63 USD
Unit price
per
Sale
Sold out
There is currently a problem with our credit card payment channel, which is being dealt with urgently. If you want to pay with Paypal, please contact us.Our email is: topsignaljammer-service@outlook.com
World First 24 Antennas all-in-one design wireless signal Jammer with nylon cover for portable, jamming all types of Android phones, Tablets, Smart Phones, iPhones, Win phones etc. that use 2G, 3G, 4G 5G, and CDMA 450Mhz, Block GPS, Wi-Fi 5G, Walkie-Talkie UHF/VHF and RF signals like 315, 433, 868,915,LORA,LOJACK etc. Battery capacity LCD display (Capacity percentage, working Voltage/Current) is popular in 2022 and in years to come.

Advantages:

The world first 24 bands portable jammer with 24 antennas design, blocking all cell phone 5G 4G 3G 2G LORA LOJACK GPS Wi-Fi RF signals.
24 watts high output power, Jamming range 2 to 25 meters (at-75dBm, depends on signal strength in given area).
Good cooling system with 3 cooling fans inside and bigger hot sink, Nylon cover for handheld.
With DIP switch, can turn on/off any signal band without affect other bands.
With car charger, 12V DC/AC power supply is also available
With built-in battery, can work 100 minutes, repeated charging
Battery capacity LCD display (Capacity percentage, working Voltage/Current).
Safe case packing and handheld for option.

Application:

It can be applied at meeting rooms, conference rooms, museums, galleries, theatres, concert halls, churches, temples, restaurants, classrooms, training centers, factories, banks, trains, bus and more Places that require silence, confidentiality and information security.
For some locations of special purpose such as hospitals, gas stations and more, please do field test first to make sure no interference happened to the normal operation of their equipment and instrument

Jamming frequencies 24HU :
VHF/LOJACK :135-175MHz
4G1700 :1710-1780MHz
5G600 :617-698MHz
3G2100 :2110-2180MHZ
WIFI5.2G :5100-5500MHz
GPSL2L3L4L5 :1170-1390MHz
LORA :900-930MHz
5G3500 :3300-3600MHZ
RC868 :868MHz
4G700/800 :725-821MHz
PCS1900 :1920-2000MHz
5G3700 :3600-3900MHz
4G2600 :2500-2690MHZ
5G1500 :1427-1518MHz
CDMA850 :851-894MHZ
4G2300 :2300-2400MHz
RC315 :315MHz
RC433 :433MHz
UHF&CDMA450 :400-470MHz
GSM900 :925-960MHz
GPSL1 :1570-1610MHz
WIFI2.4G :2400-2500MHz
DCS1800 :1805-1920MHz
WIFI5.8G :5500-5900MHz

Jamming radius:2-25meters
Power supply:AC110-240V to DC12V
Working Time:Around 100 minutes
Total output power:Total 24W,1W each band with 2dbi gains omni antennas
Device size:200x133x66mm (without antenna))
Device weight:2.5kg
Package Contents:Jammer Host x 1, AC Charger x1, omni antenna x24, Car Charger x1, Nylon cover x1.
Share
Same/next Day Fast Shipping, Delivered within 7-10 Days

Provide Tracking Number

Free Shipping
View full details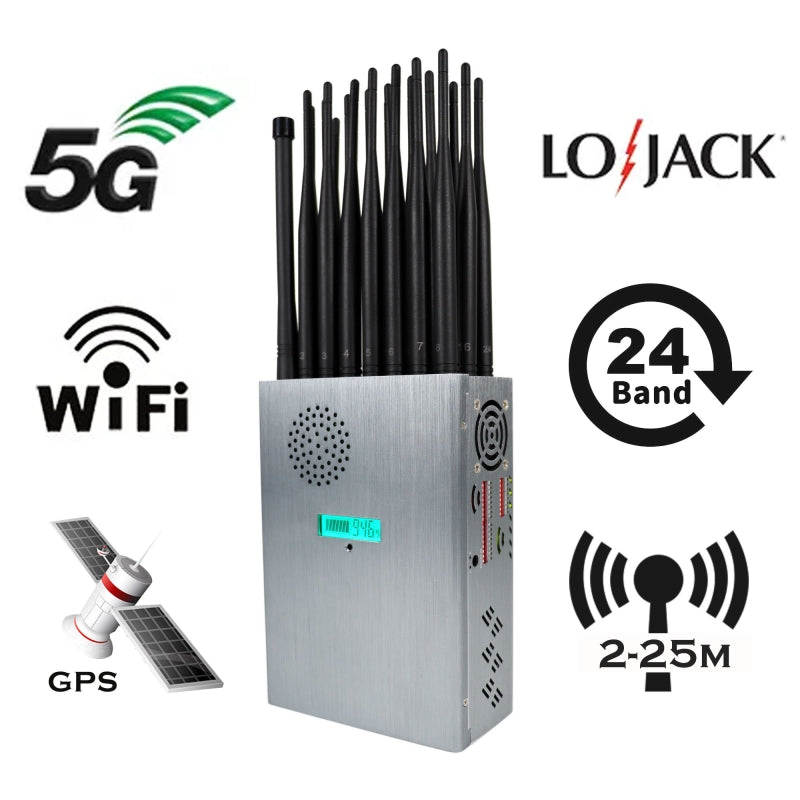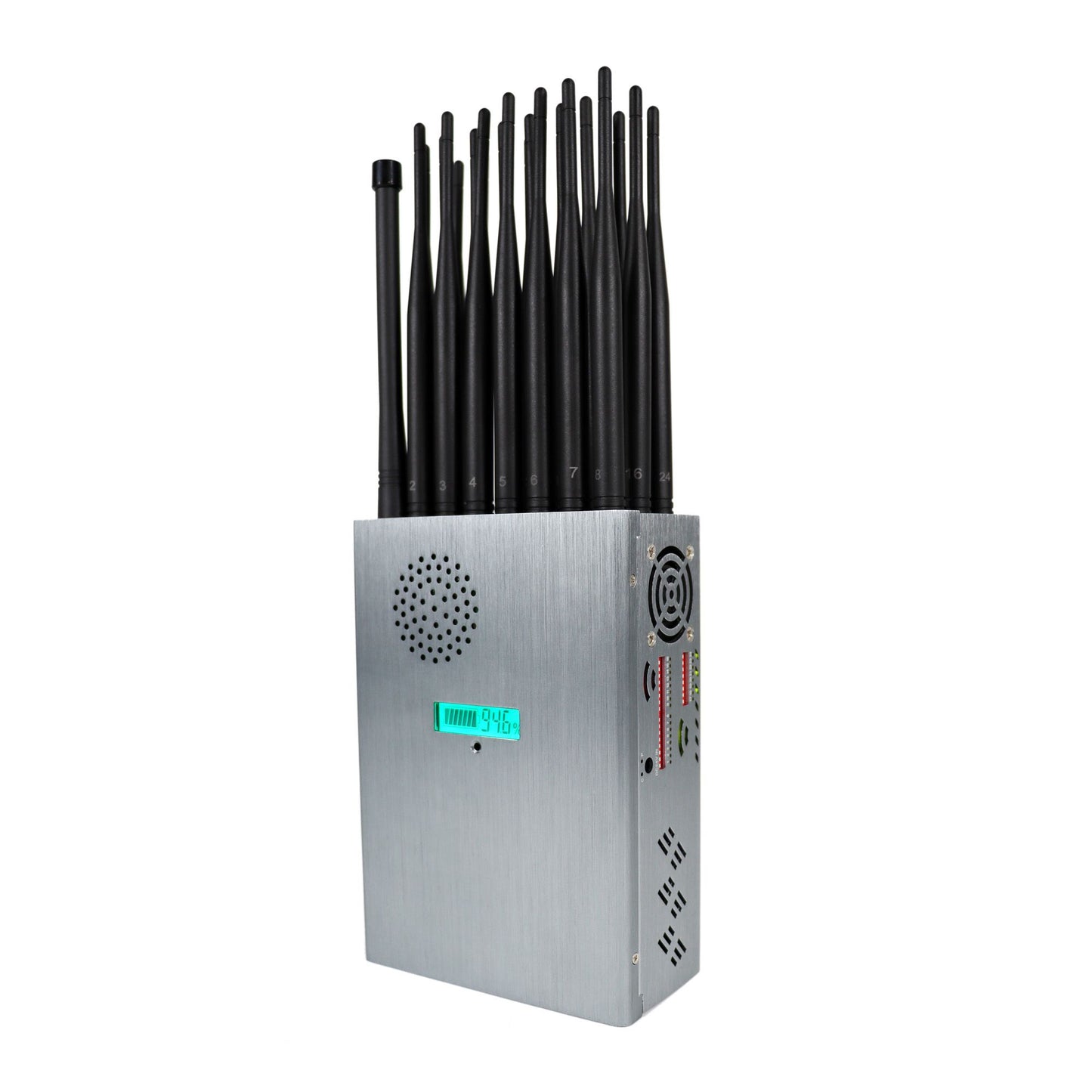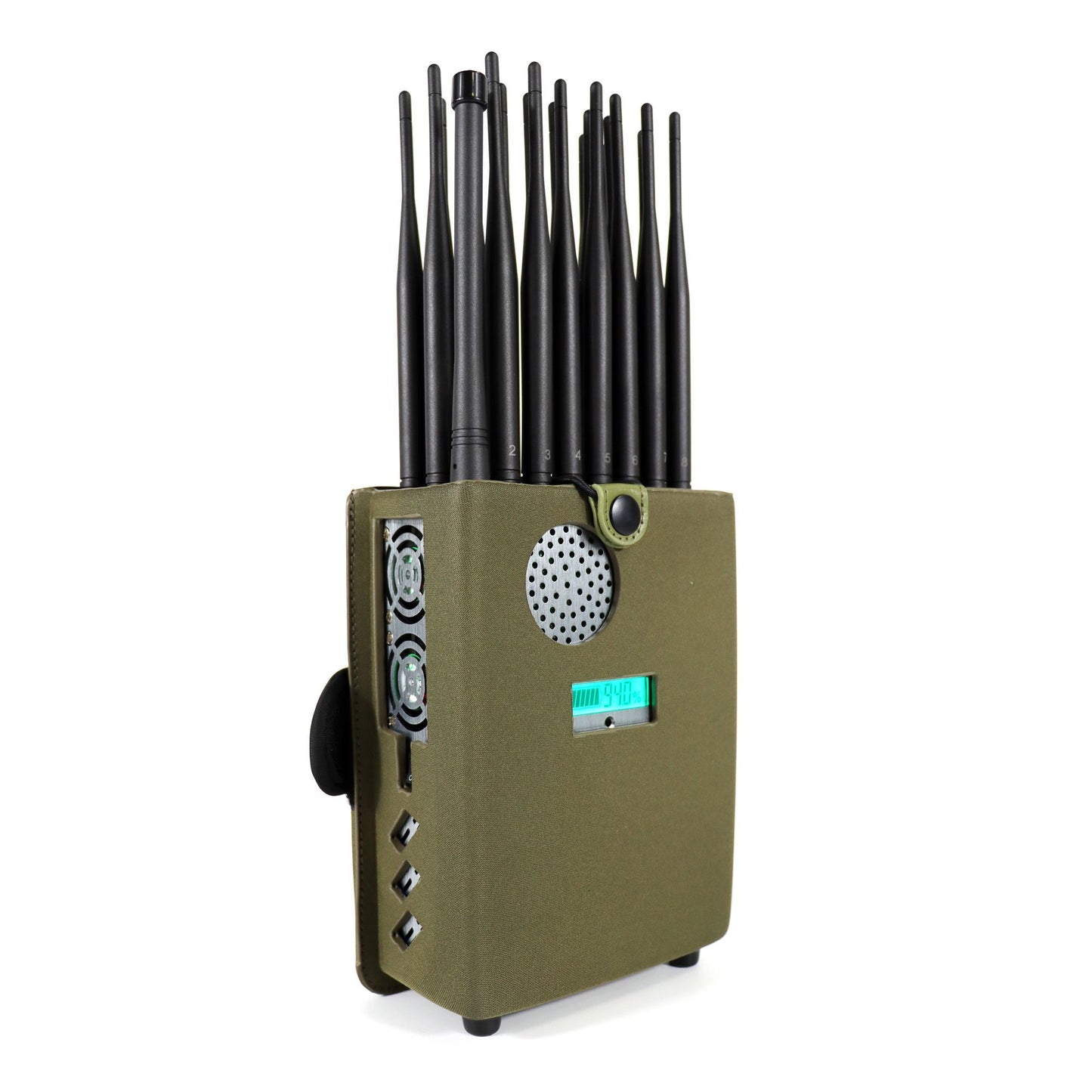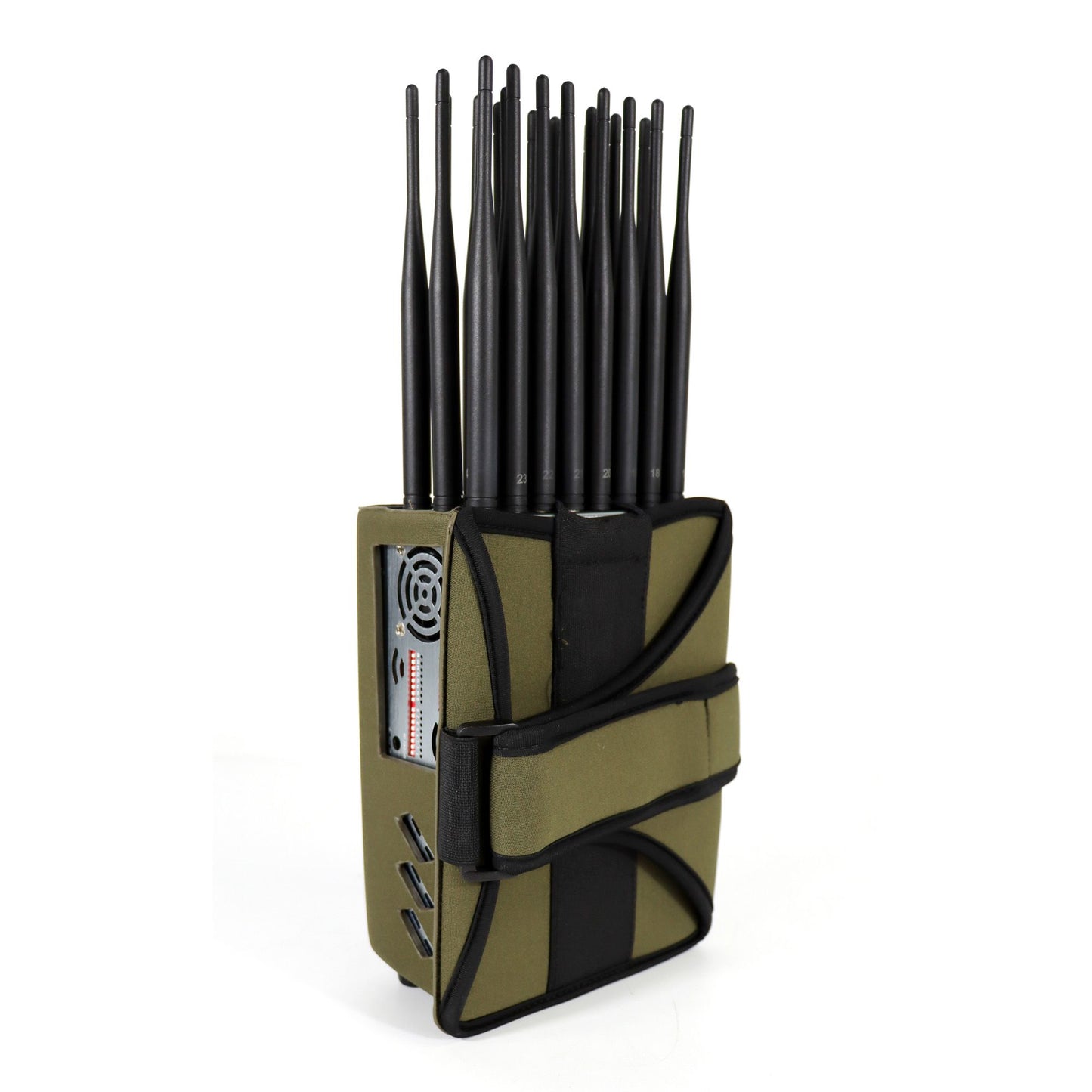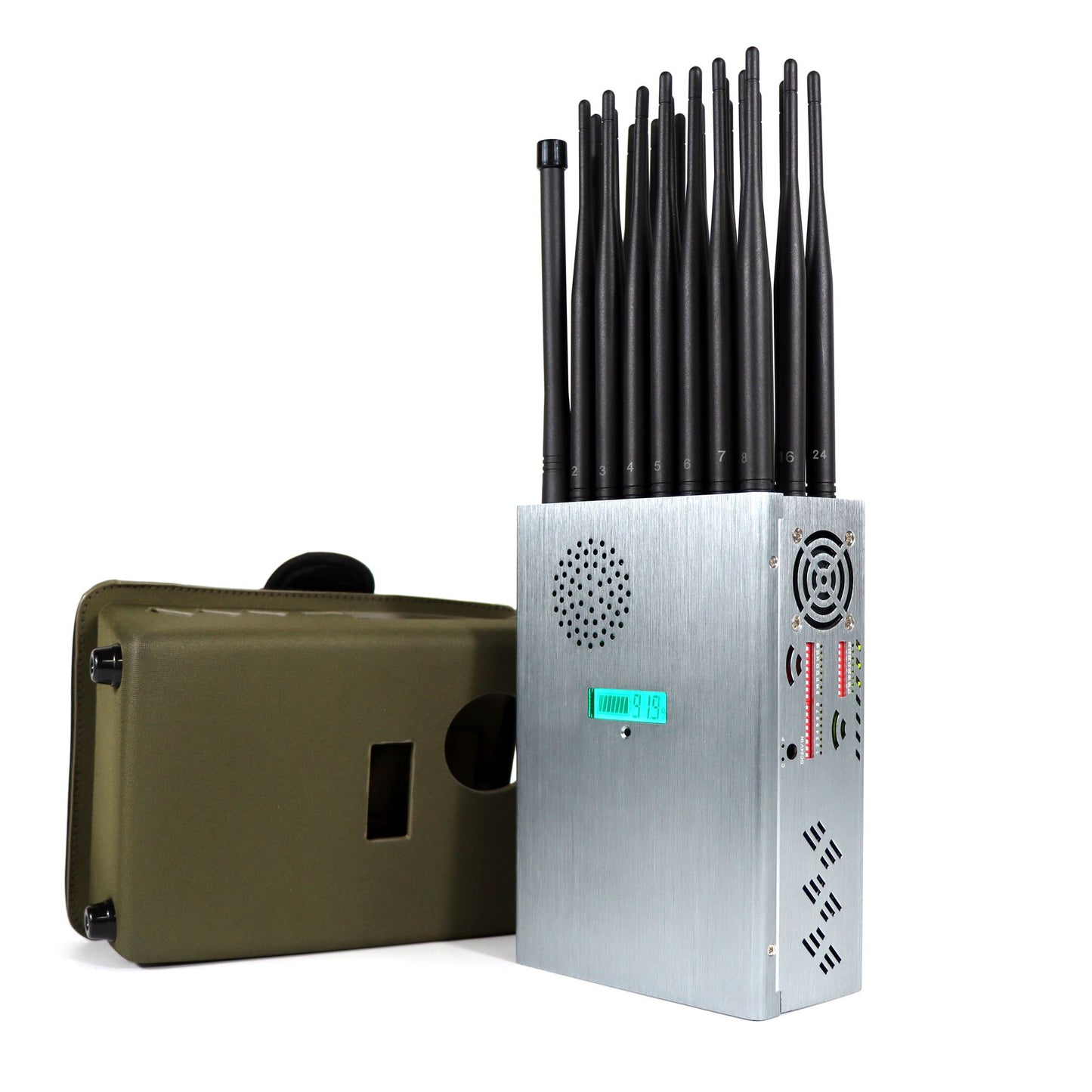 Recommended it.
I really love handheld signal jammers. It's really convenient for me to use anywhere.
Very perfect interference effect.
The handheld 22-wire jammer works very well and has a good jamming distance, but it has one drawback: the switch on the side is a bit small, I need to use my fingernail to turn it on, but this does not prevent me from using it.
Second Purchase
This is the second jammer I bought at topsignaljammer and the jamming works great, just as described.
full shield
I bought their latest jammer on the advice of topsignaljammer team, they said it can block all signals of communication, yes, I finally bought it and received it after eleven days, as they said, it can block full-band signal.