Handheld Portable JPS Jammer Blocks GSM 3G 4G WiFi Frequency
Regular price
$288.99 USD
Regular price
$400.00 USD
Sale price
$288.99 USD
Unit price
per
Sale
Sold out
There is currently a problem with our credit card payment channel, which is being dealt with urgently. If you want to pay with Paypal, please contact us.Our email is: topsignaljammer-service@outlook.com

The 5 bands
portable GPS jammer
aiming at car gps tracking,camera spying for those security Units and individuals to protect their privacy. It not only blocker the all GPS signals but also the mobile phone frequency. It can block a variety of signal frequencies,CDMA, GSM, DCS, PHS, 3G, 4G, WIFI, Bluetooth, wireless network camera and wireless alarm system frequency, and you can buy the type of combination you need to block. You do not worry about the whereabouts of being tracked, spy camera candid.Jamming radius up 20 meters.
This hand-held phone & satellite signal jammer is mainly designed for the current candid and tracking technology , this kind of candid camera tracking technology bring serious inconvenience to some confidential unit and individual . This product can effectively within a 5-20 m radius of the GPS satellite signal and wireless candid transmission signal is truncated, so that you don't have to worry about being tracked, candid. This gps jammer usually used for vehicles equipped with GPS positioning or navigation; Key secret places of party and government or state, Individuals who need to prevent tracking and candid photography.etc.
Product Features:
- Effective protection of being tracked by GPS satellite positioning, protect your whereabouts privacy and information confidential
- Effectively shield CDMA/GSM/DCS/PHS/3G and other mobile phone signals
- Able to block 2.4GWIFI and wireless candid camera transmission signals
- Small size, large power, light weight, large coverage, easy to carry
Mobile Phone Signal Jammer Usage:
First: Select the area where you want to cut off the signal from your phone and place the disconnector on the table or wall in this area.
Then: After the installation is complete, turn on the cutter power supply and turn on the power switch.
At last: After the device is connected, press the power switch disconnector to work. At this time, all the mobile phones that are turned on in the field would be in the search network state, and the base station signal is lost. The main callee cannot establish a call.
Jamming Frequencies:
- CDMA & GSM : 870 - 960MHz
- PCS : 1930 - 1990MHz
- 3G : 2110 - 2170MHz
- 4G : 725 - 770MHz
- WiFi : 2400 - 2500MHz
- Bluetooth : 2400 - 2480MHz
- Wireless network camera / wireless alarm : 1000 - 1300MHz / 2400 - 2500MHz
- GPS : 1500 - 1600MHz / 1220 - 1230MHz / 1200 - 1210MHz / 1250 - 1280MHz / 1170 - 1180MHz
Other Parameters:
Total power: 2.5W
Ambient temperature: - 20℃ - 55 ℃
Relative humidity: 30% - 95%
Power supply: AC 100 - 240V
Weight: 500g
Dimensions: 115 x 70 x 25 mm
Jamming radius: up 20 meters (Depending on the signal strength in your region)
Packing List:
1 * Portable jammer
1 * AC charger
1 * Car charger
5 * Antennas

Share
Same/next Day Fast Shipping, Delivered within 7-10 Days

Provide Tracking Number

Free Shipping
View full details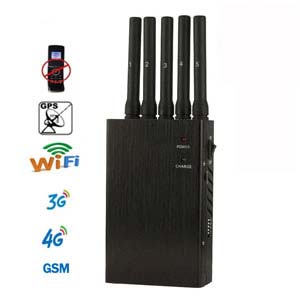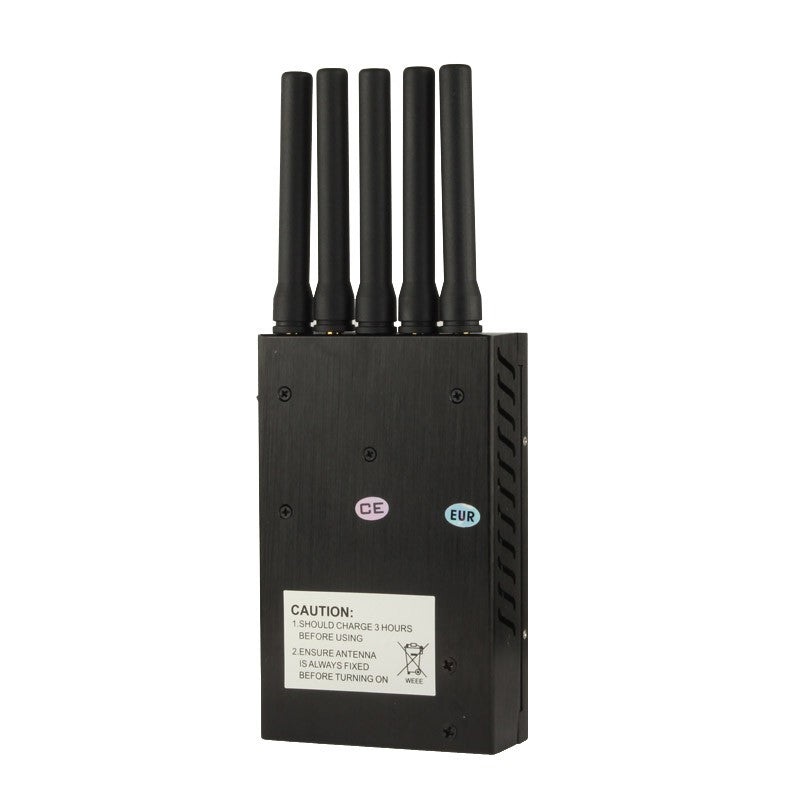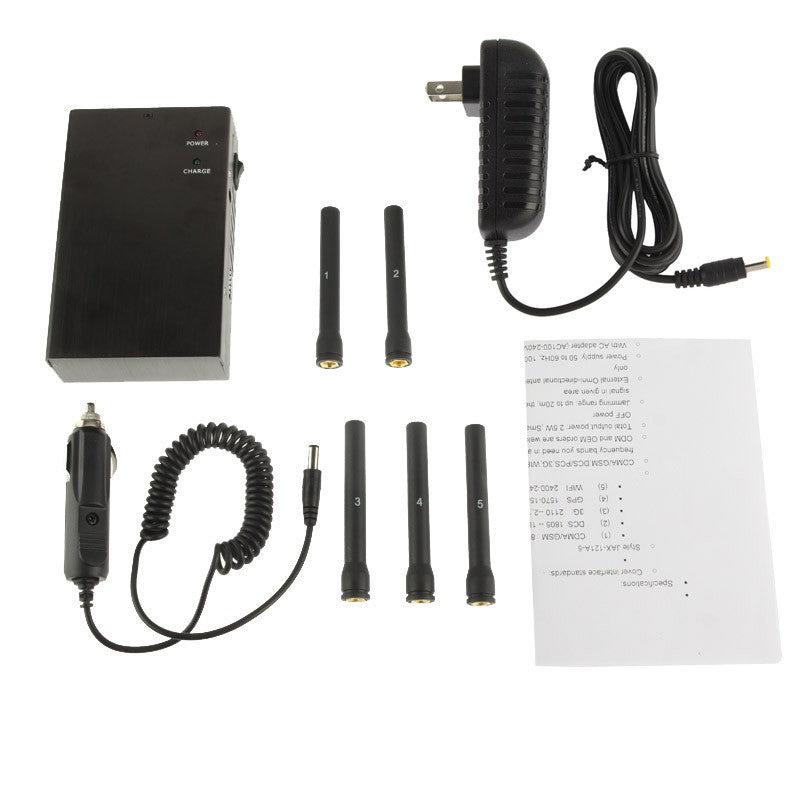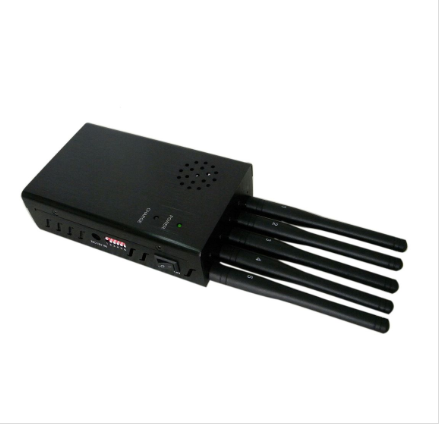 Fast delivery.
Conscience site, I received it seven days after I placed my order and it works.
Very portable!
Jammers are very convenient and can interfere with various frequency bands. And turn on or turn off the corresponding frequency band according to your needs. The only disadvantage is that the frequency band switching is too small
The jammer works the same as the website instructions
It works well, is smaller and looks like a battery ... Now I can quietly read books in the library, attend meetings and no phone rings. The jammer works the same as the website instructions