When the mobile phone is in use, it is within a certain frequency range. The mobile phone and the base station are connected by radio waves, and the transmission of data and sound is realized according to a certain baud rate and modulation method. For this communication principle, the mobile phone signal jammer scans from the low-end frequency to the high-end frequency of the forward channel at a certain speed during operation. This scanning speed can cause garbled interference in the signal received by the mobile phone, and the mobile phone cannot detect the normal data sent from the base station, resulting in the mobile phone being unable to connect with the base station. The mobile phone shows the situation of searching the network, no signal, no service system, etc. The following mainly explains the influence of temperature on the stability and service life of GPS jammer.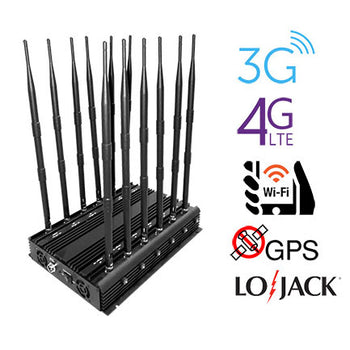 What effect does temperature have on GPS jammers?
The parameters of all devices will change with the change of temperature. If the temperature is too high, it will affect the stability of the device. For example, when a shielded area has signals on both sides of the interference frequency band, the usual shielding is effective, but when the temperature rises After that, the frequency will have a relatively large offset, which will interfere with the frequency to the original operating frequency, resulting in the loss of the original shielding effect or the good or bad of the shielding effect.
Temperature will affect the service life of the equipment. The general rule is that the service life is inversely proportional to the square of the temperature rise. For example, when the chip temperature of a certain device is 65°C, the mean time between failures is 100,000 hours; when the temperature rises to 115°C, the mean time between failures is 30,000 hours.