The British government said on Thursday that in a four-year plan, the UK has released the 700MHz frequency band to free up capacity for the auction of 5G mobile service spectrum in January 2021. According to the plan, the spectrum band used by nearly 20 million TV sets in the UK has been re-adjusted.
The British government stated that the release of these radio frequency spectrum will help increase the total capacity of the radio spectrum available for mobile services in the UK by nearly one-fifth.
The Minister of Digital Infrastructure in the United Kingdom, Matt Warman, said, "We have implemented a peaceful airwave revolution, which will improve the quality of mobile service coverage in rural communities and open new ways for 5G mobile technology services. To increase our business productivity and improve people's lives."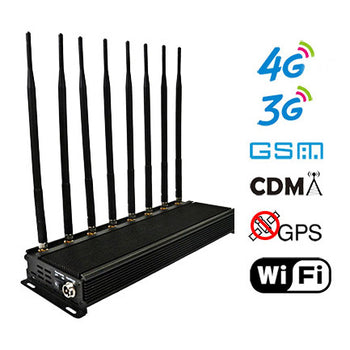 The media previously reported that the British telecommunications regulator Ofcom has formulated rules for the auction of 700 MHz and 3.6 GHz to 3.8 GHz frequency bands to accelerate the promotion of the coverage of 5G mobile technology services nationwide in the United Kingdom. The auction will cover 80MHz spectrum in the 700MHz frequency band and 120MHz spectrum in the 3.6GHz to 3.8GHz frequency band.
Last year, some British mobile operators, including British Telecom (BT), have already obtained some 5G service spectrum resources. For example, Vodafone paid 378 million pounds to obtain 50MHz of spectrum in the 3.4GHz band. And EE paid 303 million pounds and won 40 MHz of the spectrum. O2, a subsidiary of Telefónica, obtained 40MHz of the spectrum for 318 million pounds.
Cell phone jammer can shield 2/3/4/5G signals, GPS, WiFi, drones and other signals. They are mainly used in prisons, schools, churches, gas stations and other places to provide you with shielded communication services to protect your privacy Safety!