Many people are at a loss when buying things. This is the reason why you do not understand the functions and specifications of the product. Some people say that the purpose of buying things is unclear. Similarly, many are confused when choosing a jammer. I don't know the performance of the product. This is the cause. What jammer do you choose? I have a question like this. To address these issues, today I would like to talk about portable jammers and stationary jammers. Customers will find it a little helpful when choosing this product.
First, I would like to introduce the common points. The principle of work is the same. The mobile phone and the base station cannot be connected normally by blocking the radio waves from the base station. Disables the call. The place of application is also the same. Generally applied in public places such as movie theaters, government agencies, concerts and libraries. It provides a quiet environment. This is an effective measure against annoying signals. Both can block different radio waves. It can suppress signals such as GPS, WIFI, 3G, 4G, GSM.
Next, I will explain the differences. The blocking range is different. Portable cell phone jammer have a narrow blocking range. In contrast, stationary jammers have a wide shielding range. The volume is also different. Portable jammers are small in volume. The weight is also light. It's convenient to have. Stationary jammers are heavy. The volume is larger than the portable jammer. It is difficult to carry. There are also places where it applies. In general, stationary jammers are applied in places such as test sites, prisons, police stations, and military bases. These locations place great importance on the protection of information. You need a super-powerful jammer. Portable deterrence devices are applied in places such as business vehicles and library conference rooms. Stationary jammers can generally be used for long periods of time. Stationary jammers have a wide range of applications.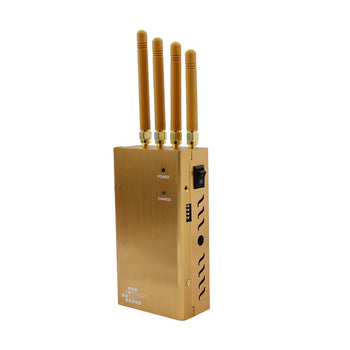 Here is a brief description of portable radio breakers and stationary GPS jammers. Customers will find it a little helpful in choosing between stationary and portable. Choose a jammer according to your needs.