When you just want to be alone and not be disturbed, you will find your phone ringing all of a sudden. Don't worry, topsignaljammer.com teaches you how to block a phone completely and enjoy 100% freedom.
First, we need to know what signals your mobile phone will receive: common 4G mobile phone can be purchased in the market, the signals it can accept mainly include GSM/CDMA, 3G, 4G, WIFI, GPS. Of course, there may be NFC or infrared power, but these must be actively used, otherwise close contact will be used. So we are mainly discussing the signals mentioned above, they can transmit to your mobile phone from a long distance or receive signals from your mobile phone.
Although the phone we are using is called a 4G phone, if you think you can completely block your phone by blocking the 4G signal, you think that is too easy. There are many functional modules for mobile phones, mainly GSM/CDMA, 3G, 4G, WIFI, GPS listed above. Each signal uses a frequency, so we must protect all frequencies that will be used by the phone, in order to fully protect a 4G phone.
Among these signal types, GSM/CDMA, 3G, 4G are mainly used to realize the communication function, which is the main function of our mobile phone. WIFI and GPS belong to different functions, and different functions are installed in the mobile phone.
Let's take a look at the signals of several major communication functions first, 4G is compatible with 3G and 2G, and 3G can be 2G. The frequency range covered by 2G is: GSM: 925-960 MHz, CDMA: 851-894 MHz and the frequency range covered by 3G is 2110-2170 MHz. The frequency range covered by 4G is 4G: 2300-2400/2496-2690MHz, 4GLTE: 700-803/790-862MHz. We need to shield these bands to completely block all communication signals from the phone.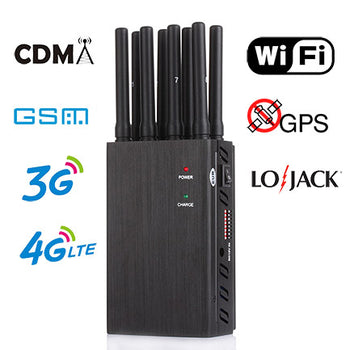 Let's talk about WIFI and GPS. Currently, WIFI is commonly used as WIFI2.4G, which uses a frequency of 2400-2485 MHz. The shielding equipment we purchased must provide the corresponding function to protect this tape. In fact, on some other devices the WIFI signal also uses other frequencies and we will have the opportunity to discuss with you in the future.
The frequency covered by the GPS signal is 1560-1610 MHz / 1170-1280 MHz / 1370-1390 MHz Also, when purchasing the shield, we also need to provide the corresponding shield function.
Now, you will find that if you want to completely block a cell phone, you need to hide the usage frequency of various corresponding features. So when we buy the shield, it is better to choose a full signal jammer so that we can block a phone completely.