Cell Phone Jammer Jammer, Large Mobile 8341CA-4G Jammer [6 Antennas]
It is a cell phone and PHS adjustment device designed to raise awareness of cell phone users who do not observe good etiquette and maintain a safe and comfortable space. It supports all frequency bands of mobile phones and PHS currently used in Japan.
Suitable for schools, cram schools, hospitals, restaurants, shops, conference rooms, beauty salons, libraries, etc.
● All cell phones are unavailable! (Compatible with 2G/3G/4G mobile phones)
It is a perfect cell phone jammer that can regulate the reception and transmission of cell phones sold in Japan.
● Control scope control
Mobile phones with a radius of about 5m and a radius of about 5m. (subject to availability)
● Adapter type suitable for use in shops and offices
AC adapter, so it is ideal for those who use it frequently in shops and offices.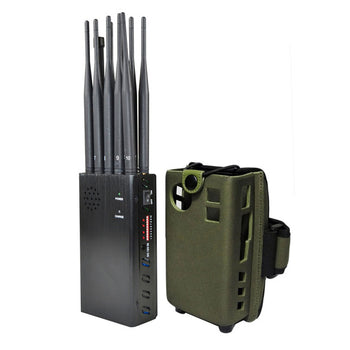 【GPS jammer compatible frequency band】
800MHz band: docomo[mova]/au[cdmaone]
1500MHz frequency band: SoftBank, docomo 1700MHz frequency band
: EMOBILE, docomo
1900MHz band: WILLCOM[PHS]
2100MHz frequency band: docomo, SoftBank, au [FOMA, third-generation mobile phones of various companies]
* It may not be possible depending on the usage environment and model.
● Easy-to-use dry cell type
A type of dry cell battery that can be used in a bag or pocket.
This is economical because you can also use rechargeable NiCd and NiMH batteries.
AA alkaline batteries x 8
【Precautions for use】
■ The antennas included with the 2G / 3G / 4G jammers are individually designed for each carrier, so please be careful not to make mistakes when removing and reinstalling. Effectiveness may be significantly reduced or malfunction may result.
■ The base structure of each antenna is weak, so handle it carefully so as not to put a load on this part.
■ The effective range may be narrowed depending on the usage environment. Also, depending on the make and model of the phone, there may be differences in sensitivity, inefficiencies, or it may take time to stop service.
■ If the mobile phone and the base station are close to each other, the original effect may not be produced due to the strong radio waves.
■ Do not use it for prank or harassment purposes.
■ Please use this product in accordance with domestic radio laws.