Would you like to get a desktop jamming device that can block all cell phones and WiFi signals at the same time? Then you can take the opportunity to check out this 4G LTE cell phone jammer and remote control WiFi jammer.
"I need a high-performance cell phone jammer for cell phones in the office bathroom because my employees have to go to the bathroom and use their cell phones for a long time. So I need the signal jammer to keep working and block the phone and data services. "
Do you have the same request for advice in the above situation? As a boss or manager, you will find that managing people and improving their efficiency at work is a difficult task. They will go out of their way to work in a way that you cannot catch or blame. For example, they go to the bathroom to use their cell phone. Even if you strictly ask employees not to use cell phones or include this rule in strict regulations, it is hardly going to work. As a result, not only will your company not be seen as human, but you will also lose the ease of use in their heart.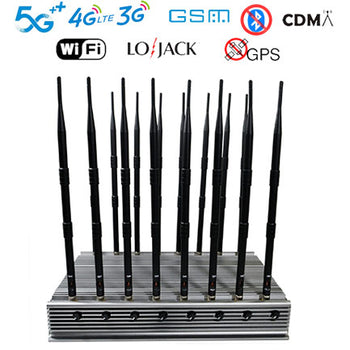 You may be familiar with the 4G LTE cell phone signal. But do you know the latest 12W 4G LTE cell phone wireless jammer with remote control? It can block the 4G LTE cellphone signal and it can block the wifi signal too!
4G LTE cell phone high performance wireless jammer with remote control function is widely used in prisons, guards, detention centers and other areas. If you are looking for a powerful and efficient desktop interference device, this is the place to stop. Simply put the device in the shopping cart. With this jammer in the office, you can easily block the cell phone signal. Since all phones are blocked, your employees do not have the right to reveal any further information.
With this high-performance WiFi jammer for 4G LTE cell phones, the shielding range includes CDMA (851-894 MHz), GSM (925-960 MHz), DCS / PCS (1805-1990 MHz), WLAN (2400-2500 MHz) and 4G LTE (725) - 770 MHz). The wireless remote control can easily turn the jammer on and off. The output power of 12 W and the power consumption of 30 W make it an advanced device. If there are no obstacles, the interference range can be up to 50 meters. With the AC110-220V / DC5V power supply, the blocking agent can work continuously for a long time.